HA LONG BAY CRUISE - EVERYTHING YOU NEED TO KNOW ABOUT CRUISING IN HA LONG BAY
09:47, 01 16 2020
Ha Long Bay cruises are available at almost every hotel and travel agency in Vietnam. Halong Bay is an impressive geographical formation in northern Vietnam. It has over 1,900 islets with pristine beaches, limestone caves, inland lakes, and floating villages. Declared a UNESCO World Heritage Site in 1994, the best way to experience this landscape is by boat.

Depending on your budget, you can opt for a luxurious cruiser or budget diesel-powered junk to explore Halong Bay. Do allow for at least an overnight stay as there are plenty of things to see and do here. These cruises typically include English-speaking guides, hotel transfers, and entrance fees, meals, and on-board entertainment. Here's a rundown of everything you need to know about Ha Long Bay cruises.
 
Ha Long Bay Cruises Highlights
Joining a two-day, one-night Ha Long Bay cruise is a good option for first-timers.  You get to discover various islets, beaches, villages, and grottoes on a more relaxed pace. It also offers stops for swimming, fishing, snorkelling, kayaking, and trekking. If you're not a fan of outdoor activities, you can just relax and admire the stunning scenery. 

Ha Long Bay cruises vary depending on the season and weather. One of the most popular stops in Halong Bay is Cat Ba Island. It has floating villages, hotels, restaurants, and bars that are set against a backdrop of lush mountains. The island is also home to endangered animals, such as Cat Ba langurs, southern serows, black giant squirrels, and civet cats.
Located 28 km from Bai Chay Port, Dau Be Island is another island listed on most Ha Long Bay cruises. It's a prominent swimming and diving spot with a rich coral system, deep grottoes, and six inland lakes. You can only visit the caves by rowing boat at low tide. You can spot golden monkeys and flying squirrels here.

Bo Hon Island is where you can find Halong Bay's most famous caves. Sung Sot, Trinh Nu and Trong Cave are set against a backdrop of mountains, cliffs, and lush forest. Accessible within a two-hour boat ride from Bai Chay Port, it's widely regarded as Halong Bay's natural park. There are plenty of cycads, orchids, and banyan trees. It's also home to wild monkeys, deer, and chamois.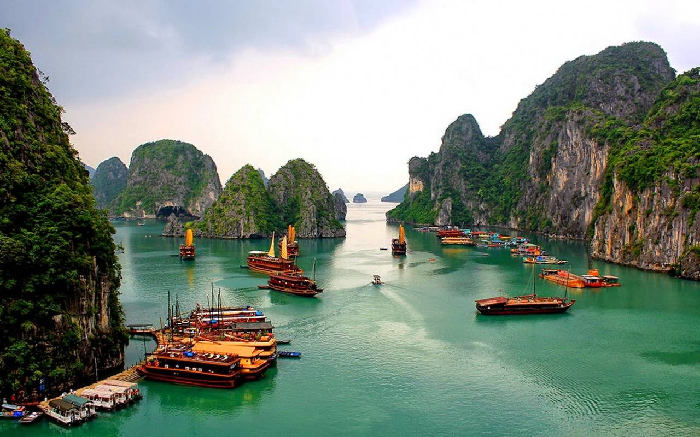 Ha Long Bay Cruises Dining


Ha Long Bay cruises typically offer Vietnamese dishes such as spring rolls, stir-fried vegetables, fried rice, seafood, poultry and meat dishes. A fruit platter is commonly served as dessert. Alcohol and snacks are available at additional charges. Breakfast is served from 07:00 until 08:00, which is typically eggs and toast with coffee.

In the evening, cruisers are docked. Most travellers retire early and rest in their cabin. However, there's always a group that stays up to drink and socialise at the bar on-board until late. The cabins on board are usually fitted with either bunk beds or double beds.

Cre: Vietnam-guide.com
Posts same category