GALINA MUDBATH and SPA IN DA NANG | Spa Da Nang | Viet Nam Trip
Booking Galina Mudbath and Spa in Da Nang by Ztrip, you will have Best Prices and Easier. Ztrip introduce all services in Galina Mudbath and Spa for you.
No Cancellation
Show Mobile or Printed Voucher
Fixed Date Ticket
English
GALINA MUD BATH and SPA in Da Nang
1. HOT MINERAL MUD BATH: 
The unique hot mineral mud bath package in Danang with 8 steps offering you the best sense of relaxation you have never been experienced before.
Step 1: Soaking in hot mineral mud
Step 2: Rain-tree shower
Step 3: Foot massage by floor fountain
Step 4: Body massage by hydrotherapy
Step 5: Soaking in Jacuzzi pool
Step 6: Steam and sauna
Step 7: Swimming pool 
- 350.000 VND/ PERSON ( From 1 to 2 person)
- 265.000 VND/ PERSON ( Over 3 person)  
2. MASSAGE BODY THERAPY
Galina spa & massage body therapy use special therapies includes Aroma massage, Vietnamese massage, Shiatsu massage that make you feel comfortable and the best body detoxity, impact on muscle depth, relieve stress and tension.
INCLUDED: 
- Welcome drink
- Soaking in Jacuzzi pool
- Steam
- Sauna
- Herbal foot soak
- Massage body
- Snack
Traditional Vietnamese massage
Traditional Vietnamese massage is a harmonious combination of massage and reflexology movements, to directly impact areas of pain and injury, improve health problems. Treating many types of diseases related to bone, joint diseases and injuries of organs: respiratory, circulatory, digestive.

Massage Aroma
Aroma massage is a strong massage, transferring good energy into the acupuncture points and major muscle groups, suitable for those who are in debilitating conditions, muscle aches, stress, high blood pressure. Especially, Aroma massage completely eliminates anxiety and fatigue and keeps the mind relaxed.

Massage Shiatsu
Shiatsu is a massage therapy made in Japan, a combinition of acupressure techniques and Western reflexology. This is a comprehensive healing method, which helps the body to relax, keep balance between physical and mental health perfectly.

Massage Himalaya
This is the massage therapy that awaken all the senses of the body.  The biggest benefit of  Himalaya salt rock in massage is its ability to relax deeply, refresh skin, exfoliate.The combination of salt stones and Galina massage therapy to reduce stress and tension, arousing positive energy in the body.
PRICES: 
- 60 Minutes: 530.000 VND/ person
- 90 Minutes: 680.000 VND/ person
- 120 Minutes: 790.000 VND/ person

3. GALINA FOOT SIGNATURE SPA/ Share room: 
Galina Foot Signature Spa with 4 steps included:
- Welcome drink 
- Herbal Foot soaking 
- Massage Foot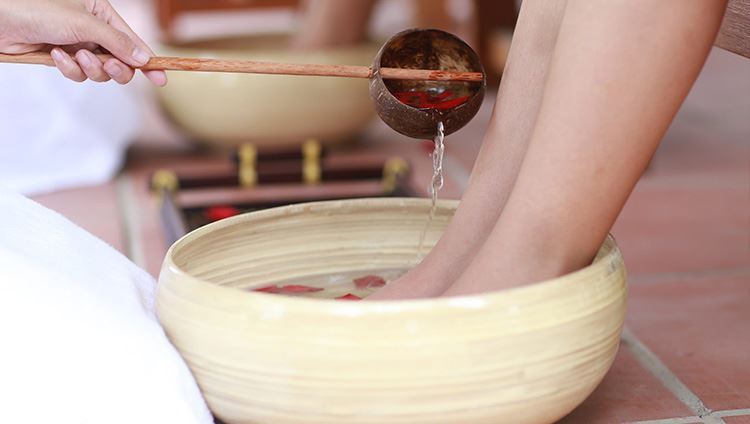 PRICES: 
- 45 Minutes: 295.000 VND/ person
- 60 Minutes: 390.000 VND/ person

NOTE: You book at Ztrip, you will have best price. 
📞 Mr. Alex 0913645958 (zalo/whatsap)
📩 EMAIL : tour@truongsatourist.net
 
TRUONG SA TOURIST – QUALITY IS TRADEMARK!
Instant confirmation
0 Booked
Maybe you are interested