What should we enjoy when travelling Da Nang? Da Nang Trip | Travel Experience Viet Nam
What should we enjoy when travelling Da Nang? Truong Sa Tourist recommend lots of delicious Danang local food such as:Quang Noodles, Banh Xeo,.... You will never be disapponited when visiting in Da Nang.
What should we enjoy when travelling Da Nang? 
Truong Sa Tourist recommend lots of delicious Danang local food such as:Quang Noodles, Banh Xeo,.... You will never be disapponited when visiting here.  
1.  Quang Noodles
 Quang Noodles is a hearty concoction of wide rice noodles served atop a beefy broth with a choice of proteins and condiments. Quang Noodles is served for breakfast just about everywhere and costs around 20,000 dong (about $0.90 USD). However, we recommend Mi Quang Ba Mua or Mi Quang Bep Trang if you're looking for a slightly better bowl of Mi Quang. This local chain serves a higher quality, slightly costlier version with more seasoned noodles and tastier broth along with a wide range of protein choices. 
You just need to search for "Mi Quang Ba Mua" or "Mi Quang Bep Trang" to choose the location nearest to you.
2. Sizzling Pancakes "Banh Xeo" 
Banh Xeo are piled high on platters along with side dishes of cucumbers, greens like mint and lettuce, raw bean sprouts, kebab-like sausage on wooden sticks and ultra-thin rice paper wrappers. The idea is to wrap the Banh Xeo inside the thin rice wrappers along with as many sides that you can fit in.
In Da Nang have Banh Xeo Ba Duong, where is a large ultra-bright space with a number of tables suited to both a group of four or a large party of friends. 
3. Bánh bèo
Bánh bèo is no doubt a heritage dish of central Vietnam; it is especially famous in Hue, Quang Nam and Da Nang. 
Banh Beo is basically made of rice cake. Other ingredients include chopped shrimp, fish, etc. It is usually eaten with fish sauce. Simple as it may sound, this dish stands among the most popular delicacies throughout the country. Originated from Hue, Banh Beo is usually eaten in small, unique "cups". Because of their size, it may take at least 10 cups to fill your stomach. However, those in the South made some changes in style and decided to make "Banh Beo" about 5 times larger and serve it in big dishes. Though there is no change to the ingredients, this new form of "Banh Beo" gives an unforgettable impression and, therefore, is a must-try.
No matter which style you are in favor of, Da Nang has a lot on offer to satisfy your personal likings. 
You can find eateries on the sidewalk in the morning. 
4. Fish Ball Noodles Soup (Bun Cha Ca) 
Bun Cha Ca is delicious food in Da Nang .  Bun Cha Cá have big bowls of fish broth loaded with fish cakes, Bun (vermicelli rice noodles), cabbage, tomato, pineapple and bamboo shoots. You should added fresh herbs and pickled veggies plus Mắm Ruốc (shrimp paste) to the bowl because that's what you do in Da Nang when you eat Bun Cha Ca.
Just one slurp was a revelation. The broth was more complex than Pho with a fishiness that didn't overpower the soup's other flavors. The fish cakes were spongy enough to be interesting. And the added fermented shrimp paste gave the bowl a funkiness that travelers either love or hate. 
In Da Nang have "Bun Cha Ca Ba Lu" on Hung Vuong Street.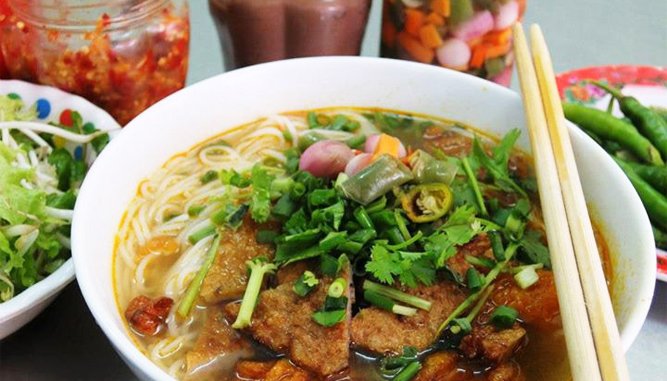 5. Baguette Sandwiches (Bánh Mì) 
Banh Mi is the unofficial snack in Da Nang with vendors all over town selling sandwiches from mobile metal carts. Though nearby Hoi An arguably serves the best Banh Mi sandwiches in Vietnam, Da Nang's sandwich game is strong and rarely disappoints in terms of quality, creativity and selection.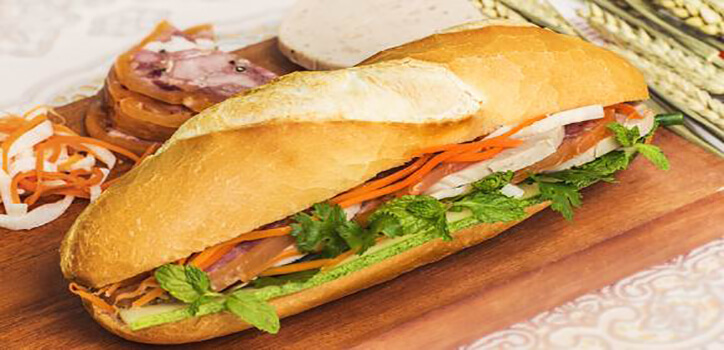 6. Seafood 
With its long coastline and active fishing culture, Da Nang is one of the premiere Vietnam locations to enjoy a seafood feast. Scores of seafood restaurants line fill the city's beachfront, many crowded with boisterous tourists happy to spend their vacation dollars on plates topped with freshly cooked shellfish and hotpots loaded with Vietnam fruits de mer.
You chose a restaurant in Vo Nguyen Giap and enjoy seafood. 
📞 Mr. Alex 0913645958 (zalo/whatsap)
📩 EMAIL : tour@truongsatourist.net
TRUONG SA TOURIST – QUALITY IS TRADEMARK!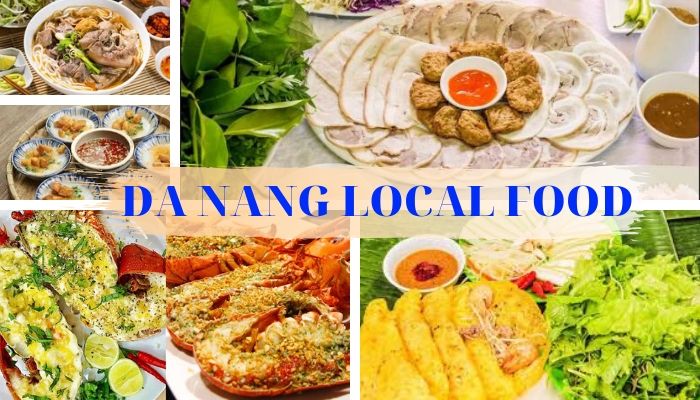 Instant confirmation
0 Booked
Maybe you are interested