HOI AN NIGHT MARKET IN HOI AN - ALL YOU NEED TO KNOW
You might know about a peaceful and ancient Hoi An at day. When the yellow mossy walls show its time mark. And when the lanterns do not show their sparkling. When the night falls down, Hoi An changes its coat. It becomes more exciting, more colorful, and more stunning. Besides the ancient alleys with the colorful lantern lights, Hoi An night market is also an interesting place for tourists to explore. There are not only local traditional products but also tasty dishes which make you crave for after a Hoi An trip.
 

Location of Hoi An night market
Hoi An night market is one of the most famous destinations in the ancient town when the night falls. Even there are three night-markets in Hoi An. When mentioning Hoi An night market, people usually think about the one on Nguyen Hoang street.
Hoi An night market is opposite to the Bridge Pagoda. This night market has a 300 meters stretch of road. There are more than 50 stalls in it. Moreover, the products here are so diversified. They include food, drinks, souvenirs, and clothes. Especially, this is the most famous and beautiful place which sells colorful lanterns. The market opens from 5 PM until 11 PM. However, the best time to visit is from 7 PM to 9:30 PM. It is the time that all of the stalls open.

What to do in Hoi An night market
Come to Hoi An night market to shopping
Come to the night market for shopping is a popular activity in the Hoi An trip schedule. With the fame in handicraft and cuisine, Hoi An night market is a wonderful paradise for tourists to explore.

Handicraft products
The most famous products here that tourists can be easy to see at the very first sight is handicraft products. Handicraft is a signature product of all the night markets in South East Asian countries. In each country, it shows the culture and tradition of the local community.
 

There is a variety handicraft product in Hoi An night market. You can come to find bracelets, necklaces, rings, earrings, and so on. They are made from stone, silk, or fabric in different colors. Additionally, you can see the bronze statues which is a traditional product of Hoi An. These statues come from Phuoc Kieu which is a famous bronze-casting traditional village in Hoi An. And the most specially attractive handicraft that you should not miss are the lanterns. Lantern is not only a meaningful gift but also an image of Hoi An that most of the most beautiful pictures of this ancient town are about it.
 
Souvenirs
Besides, you also can come to Hoi An night market for souvenirs. There is a lot of small and lovely stuff that is very suitable and meaningful to keep as memories of Hoi An trip. Moreover, these souvenirs have a true theme of Vietnamese culture. They are small Ao Dai statues, Non La, Vietnamese cards or notebook. Moreover, there is also some special stuff which has gone with the Vietnamese people's childhood. They are the small tins of golden star medicated oil, toy figurines, kites, and so on.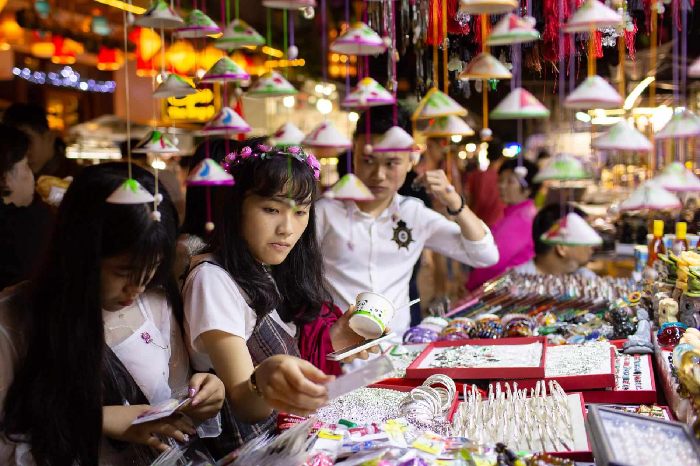 Furthermore, hand fans and small make-up bags are also a good choice for souvenirs. People usually print Hoi An's image on them so that their value increases. In Hoi An night market, these products are sold at very cheap prices.

Clothes
In Hoi An night market, there are so many stalls provide tourists with clothes. They have the most popular pattern in Hoi An. In fact, these patterns are the same as what you can see in Thailand or Malaysia and some other South East Asian countries. However, the difference is the design. Therefore, instead of choosing by the pattern, it is better for you to consider the clothing style.
 

Besides, there are some other recommended sewing products that you should buy such as bags. They have two main types of materials including leather and fabric. It is not only fabric products but leather ones are also famous products here. In the night market, the local sell these products in the shop but not outdoor so that quality could be guaranteed from the weather. If you do not have a need to buy a bag, you can choose sedge hats or shoes. They have a nice design and good quality.

Enjoy the paradise of cuisine
Like other night markets in South East Asian countries, Hoi An night market is a paradise of food, especially street food. Coming here, you can see so many small stalls on the street are smoking or creating the cooking sound. It is so exciting!
 

Street food
Street food in Vietnam is an attraction to tourists around the world. Hoi An is the same. There is a variety of street food in Hoi An night market is waiting for tourists to try. There have both traditional Vietnamese dishes and the ones they learn from other countries. Together, they make a colorful paradise for street food. You can try grilled skewer pork, Vietnamese pancake (banh xeo), or banh mi.
Moreover, sweet foods are also worthy to try. In specific, there is sweet soup with red beans, green beans, corn, and lotus seed. Ice cream tubes are also a specialty in Hoi An with different taste. Moreover, they also learn to make ice cream rolls from Thailand. The taste of it in Hoi An is great as the original one. And do not forget to try sweet soft tofu soup which is made from tofu and sugar sauce. There are also so many other dishes that you should not miss when visiting Hoi An night market. Just take a short walk around the market, you can see tons of different dishes to try.

Traditional food
Besides street food, there are also traditional foods in Hoi An night market. Most of them are served in the restaurants which are located in the night market. These restaurants offer the famous traditional foods such as Quang noodles, Cao Lau, Vietnamese pancake Banh Xeo, and so on. Spending time in the restaurants, chilling with music, and enjoy taste traditional dishes would be so great.

Cre: vietnamguide.over-blog

 
Instant confirmation
0 Booked
Maybe you are interested
Activities and Experiences
1 Booked
Activities and Experiences
1 Booked
Activities and Experiences
1 Booked